The mixed ceviche of fish or seafood is an exquisite representation of Latin American cuisine , specifically the culinary customs of Peru . Its unique flavor has become an international reference plate for lovers of seafood.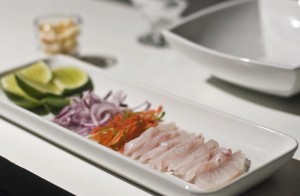 Ingredients for this dish are:
2 fillets of sole , grouper and hake
1 yellow pepper
1 large lemon
1 medium red onion
fresh cilantro
salt
So if you want to try a delicious ceviche, do not forget that in the Meat Market use ingredients of the highest quality and serve ceviche with fish of the day . Because we want your experience to be the best, come to the Meat Market and enjoy a plate full of history and flavor of the sea.